All pictures sourced from external links as Neue Galerie New York does not allow visitors to take photos. Notes from the museum audio guide.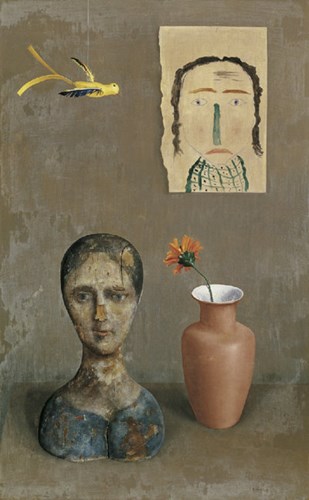 The first president of Czechoslovakia. Setting him against the backdrop of Prague and Vltava river. Extraordinary brushwork. Shortly after Kokoschka finished this painting, the Nazi called it 'degenerate' and he fled to London. Tomas Masaryk died in 1937 and this painting became an elegy for this loved president.
Here beckmann portraits real people: intellectuals, politicians, and businessmen. This is an elegant party – there is singer at the background but no one pays attention.The guests don't seem to enjoy themselves; only the couple at lower left seems to be connected to each other. The main aspect of this painting is isolation.
The style and implication of this painting would have been unacceptable to the Nazis and clearly the artist painted it for himself. Has a scientific fiction in it. The barren room, the door that goes nowhere, and the empty frame on the wall. Perhaps this an artist studio but the productivity has been totally gone.
Oelze drew a variety of sources for this unsettling composition: the use of contemporary photography, combined with traditional European landscape painting – the genuine strategy of surrealism. MoMa bought this painting in 1940.